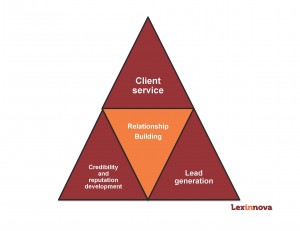 Ever landed your dream job and then found you had to raise the funds to get yourself paid? Some of us are natural entrepreneurs; while others may have had business development added their job responsibilities along the way.   Julie Fleming coaches lawyers  (many of whom entered law school never fully understanding the "rainmaking" aspect of attaining partnership level) to new heights of business development. I asked her to share some of her thoughts on business development best practices for this week's Five for Friday!
1. What are the key activities of a great rainmaker?
To bring in new business, you should focus your time on four key activities:
Client or customer service is your top priority, because great service can get you repeat business and referrals… Plus it keeps your customer base happy.
Lead generation calls on you to identify the kinds of people you want to meet and where they spend time, and then spend time in those meetings or places regularly.
Developing your professional reputation will give you the credibility you need to demonstrate that you can solve your client's or customer's problem.
Building relationships is the activity that links the other four. No matter what else you're doing, ask how you can use the opportunity to initiate or deepen a relationship.
2.  What are the most common mistakes?
I see two common mistakes: lack of persistence and mistaking luck for success. It takes time to build relationships, and visiting a networking event once is unlikely to pay dividends. Select your activities strategically, and stick with them long enough to see results—usually three to six months at a minimum. Random actions lead to random results, not repeatable success. Don't give up too soon, and don't judge overall success based on one or two lucky breaks.
3. How should someone prioritize their targets?
First, divide your contact list into A, B, and C priorities. Who's most likely to deliver business to you, either directly or by referral? Those are your A-list contacts, the ones you should be courting most regularly, with contacts every 4-6 weeks at a minimum. Your B list merits contact about once a quarter, and your C list gets contact twice a year, usually through holiday cards and one other touch. (Note that having a content-rich newsletter or blog allows you to stay in front of all of your contacts on a frequent basis by delivering useful information.) As you meet new contacts, categorize them in the same way. Make sure that your A list doesn't get too large for you to keep those contacts' specific needs and interests in mind as you craft your follow-up communications. Most people max out around 12-15 "A" list contacts.
4.  Why do people resist taking on the responsibility of business development?
Most of us receive no training on business development. We know what to do, but we don't really know how to find the clients or customers. Some people worry that great rainmakers are born with some secret skill or attribute. No one wants to fail (and many take any setback as a sign that they're missing the golden touch), and resistance is natural until you discover that sales and marketing are a personalized combination of a finite group of skills, not a golden touch. There's also a negative connotation to sales, and no one wants to be perceived as manipulative or unscrupulous. Both of these short-circuit and stop would-be rainmakers in their tracks.
5.   What are some great resources to learn about rainmaking very quickly?
One of my current favorite books is Daniel Pink's To Sell Is Human. It dispels the myths I mention in point 4 and offers easy-to-implement steps toward making a sales, whether you're selling products or services. I also like Harry Beckwith's Selling the Invisible for professional services sales.  Most importantly, find a successful rainmaker (preferably more than one!) and ask how they succeeded, then get a mentor to help you put your unique strengths to work.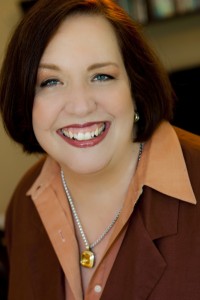 Julie A. Fleming, principal of Fleming Consulting, teaches lawyers and other professional services providers to use innovative and effective measures to build a strong book of business and a lucrative practice. A former patent litigator, she is the author of The Reluctant Rainmaker: A Guide for Lawyers Who Hate Selling and Seven Foundations of Time Mastery for Attorneys, as well as numerous articles focusing on topics such as business development, practice management, work/life balance, and leadership development.  Before launching her consulting business, Julie practiced law for over a decade in firms of 3 to more than 2100 attorneys, specializing in patent litigation. A graduate of the Emory University School of Law, Vanderbilt University (B.A.) and Georgia State University (B.S.), Julie is a Fellow of the American Bar Foundation and currently serves as Vice Chair of the ABA Section of Science and Technology Law. Her website is at www.flemingstrategic.com
What's your biggest challenge around business development? Share in the comments box!
If you'd like our free field guide "Reading the Terrain, a Short Field Guide to Understanding the Corporate Landscape" click here! You'll never miss a great interview with a change expert!