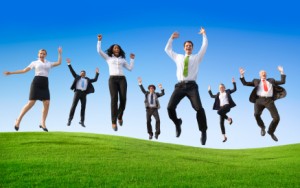 Team Building Fail – How do we get rid of the body?
I've mentioned that I once endured an extra-special teambuilding exercise in the desert (thank you team members for letting me wipe my very sick nose on your sleeves after the tissues ran out, and you know who you are!).
However even the epic 8 hours in the 108 degree desert apparently didn't beat this teambuilding exercise! It may be time to break out the contest for "Worst Teambuilding Exercise Ever" but in the meantime, have some fun with this singularly hilarious fictional exercise!
Can We Trust Each Other Enough to Cover Up This Murder at the Trust-Building Retreat? by Jon Bershad
Thinking about making a move? Size up your Corporate Landscape or any other company you may be thinking of moving to by using our free guide, Reading the Terrain. Get your copy today here.  And no, we won't spam you, you'll just get our weekly update of articles.