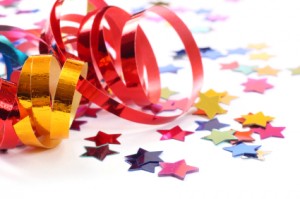 When you're leading a significant project, especially one that may not generate instant results, it's important to celebrate your victories along the way. When you first create your plan, put in some milestones to celebrate, and rejoice at some of the milestones you couldn't predict.
Celebrate when the computer coding finally works the correct way. Celebrate when half of the employees fill out the new form. Recognize those who "got with the program" and did something to support the plan.
Let the whole team know when any progress is made, was there an uptick in sales? Did the supplies bill go down by 10% last month? Did 5% of the donors give more than they usually do? Client cancellations decrease? Chart it; use one of those old fashioned thermometer posters if the workplace has a central gathering place. Post your scorecards. Show the progress in some tangible way.
It's rare to get dramatic results overnight. Some days a victory may even consist of "At least Joe in Accounting only rolled his eyes three times when we were presenting." (Those victories are best celebrated privately by your working team, don't post them on the scorecard!).
Momentum comes with motivation. As the leader, it's your job to keep the momentum going.
Next up: The Super Duper, Top Secret Rule You need to Know from the Very Beginning.
What's the best Victory Celebration you've been a part of? Share in the comments below:
Did you miss the first nine Rule of Beginning a Turnaround? Find them here.
Want to see your organization with a wide angle lens? Get your free guide by subscribing to our newsletter in the box at right!