#3 of 3 Great Reasons why what Worked for you Before, isn't Working Now.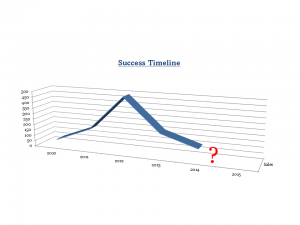 It was Working.
Now it's not working.
Why?
It's hard to continually grow success. With rare exceptions, the line to the top of the success platform is more often a series of "one step forward, two steps back, a side step, a loop de loop," and then, finally, "up we go". One of the most difficult things to come to terms with in both business and personal life is when something that had worked so well for you previously is now not only not working, but may actually be working against you.
So why isn't it working?
Joined us in the middle? See Reason #1 and Reason #2
Reason #3. Your product is wearing the wrong clothes.
Your product/business/idea may be great, but it may be dressed in the wrong packaging for your intended audience. Now this isn't usually the main driver, but can be why growth has stalled. What do "the wrong clothes" look like?
Your high tech/impulse purchase product isn't optimized for mobile access, or you created a high tech mobile product for a "not very high tech" audience. You may have reached the saturation point for the people that recognized your product in the space it is in, but you may be missing a much larger market that is playing in another playground.
Your choice of market place isn't reaching the maximum audience.  Are you a retail store? Are you in a indoor mall? How is your foot traffic vs the foot traffic at a strip center (and yes, it was a very different story 10 years ago)? Or maybe you're a business website with a non-visual based business who is doing all your marketing over on Pinterest.  Blogging when your audience wants podcasts? It may not be that you're located in a bad place, you just may not be located in the optimal place.
Your packaging doesn't match what your audience's expectations. Are you a luxury business with a pre-canned, pre-formatted word template for everything from invoices to your website that reeks of beginning Microsoft 101? Is your website loaded with "Coming soon" and a copyright date of 2011 running across the bottom?
 Well that's just great, Jeanne. So what do I do now, Little Ms. Fix it?
Read our next article, Charging Back Uphill, Blasting out of a Stall.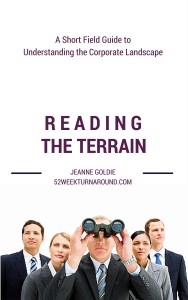 And in the meantime, if you haven't already done so, subscribe to our free weekly newsletter and get your copy of "Reading the Terrain, A field guide for speed reading the Corporate landscape" instantly. It may help you identify some critical mismatches between where you think you are and how those on the outside see your business.  And no, we're not going to sell your email address to others. Or bombard you with insta offers. We're just going to send your our newsletter that helps you navigate in a time of constant change.