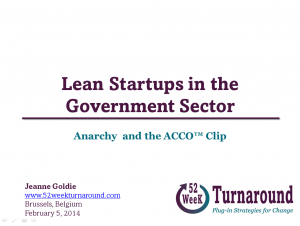 Lean Startups in the Government Sector
Brussels, February 2014.  As promised, here's a copy of the presentation that I delivered in Brussels on February 5th. The videos cover the benefits, challenges and approaches to creating Lean Startups in Government agencies, and also how to find areas of opportunity. I also touch on some successful models of Government Lean projects in the U.S. and the links to those are below. The volume will start almost immediately, so while I'd love to believe you and all your friends are gathered around to watch this presentation…you might want to grab a set of headphones! My fantastic co-presenter Carl Danneels' presentation on Lean Startups in the Corporate world can be found here. Lean Startups in Government Part 1: Lean Startups in the Government Sector, Part 2: Lean Startups in the Government Sector, Part 3:
Resources for Successful Models:
http://www.washingtonpost.com/opinions/can-government-learn-how-to-fail-fast/2013/04/12/9cca9c36-9e07-11e2-a941-a19bce7af755_story.html http://fedscoop.com/radio/government-as-a-startup-with-the-lean-startup-author-eric-ries/ http://www.innovatenycschools.org/ http://www.startuplessonslearned.com/2012/05/lean-government.html http://fedscoop.com/nasa-open-government-team-broadens-focus-to-innovation/ https://www.edsurge.com/n/2013-03-26-the-lean-startup-model-goes-to-school Tennessee State projects: Scott Ritenour,  sritenour ( AT) gmail.com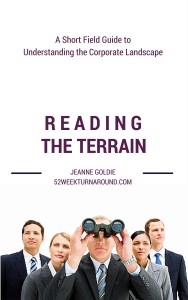 Thinking about making a move? Size up your Corporate Landscape or any other company you may be thinking of moving to by using our free guide, Reading the Terrain. Get your copy today by putting your email address in the subscription box at right. And no, we won't spam you, you'll just get our weekly update of articles.